For used Hyundai SUV sales near Alpharetta and Atlanta, come meet our team
Nowadays, a lot of folks think that you only shop for a used car if you're looking to save money. But when you look to some of the used Hyundai SUVs available here at Rick Case Hyundai of Roswell, you'll find not only the opportunity to get a great deal, but also the potential to open up new possibilities. In fact, with the right used Hyundai SUV on your side, you'll be equipped to take on anything and take in the best that Georgia has to offer, and we'd love to show you to your options.
Used Hyundai crossovers offer style, value, and versatility
Naturally, one of the main attractions to our used Hyundai SUV inventory is the fact that you can save and still enjoy a ride with some extra room. However, if you love the idea of some extra space, but still need exceptional maneuverability for traveling from communities like Sandy Springs and Marietta to the city for work, it may be worth considering a used Hyundai crossover instead.
While our used Hyundai crossovers may a similar silhouette to their SUV cousins, they're often a bit smaller and lower to the ground, reducing drag and making them a bit more maneuverable in crowded and cramped metropolitan areas.
Plus, owing to their compact stature, our crossovers achieve fuel economy figures comparable to most sedans. A used Hyundai Kona can even get up to 33 mpg on the highway when properly equipped.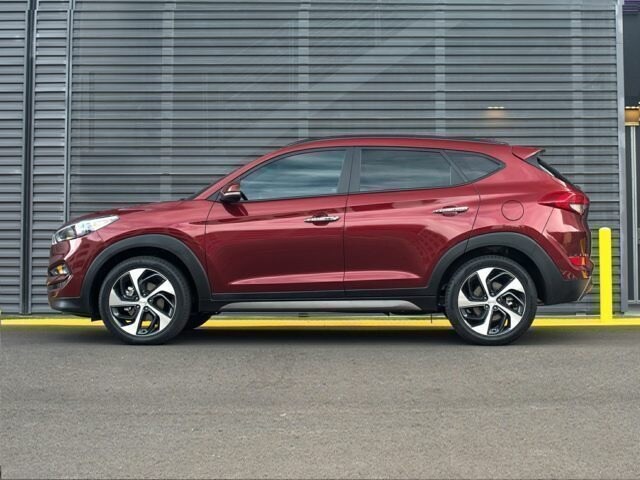 Alternatively, for urbanites who're looking for a way to say "sayonara" to the gas pump permanently with their next used car, you might just find a used Hyundai Kona Electric or two available at our showroom in the near future.
But even though our Hyundai crossovers are often smaller and more efficient than larger SUVs on the market today, that's not to say they're without the amenities and capabilities that more sizable vehicles bring to the table. In fact, models like the used Hyundai Santa Fe Sport live up to their names with agile turbocharged engine options, roof rails for mounting everything from cargo carriers to bike racks, and plenty of luggage and cargo room behind the second row for everything from suitcases to camping coolers.
Get that extra space you want for passengers and luggage with our used Hyundai SUVs
It's hard to overstate the value of our used Hyundai crossovers, it's equally hard to overstate the sheer utility that the right used Hyundai SUV brings to the table. Now, used Hyundai SUVs are typically larger and therefore a bit less maneuverable and efficient, but they more than make up for it with added capacity, ground clearance, and features outfitted for the needs of modern Johns Creek drivers.
For example, if you're looking for a competitive deal on a day-to-day driver that's geared up for weekend adventures to boot, look to our selection of used Hyundai Tucson SUVs. With measured dynamics that perform as well in light off-road conditions as they do on, and features like an available Surround View Monitor for navigating your way around street-side parking, the Hyundai Tucson is a well-rounded ride for most small families and daily commuters.
On the other hand, if you and your family are almost always on the move and need a used SUV with extra room and utility, step up to our used Hyundai Santa Fe models. With seating for up to seven passengers in most cases, great safety systems like blind-spot monitoring with rear cross-traffic alert, and even some available luxuries like leather seating and ventilated upholstery available, it's easy to see why so many drivers have flocked to our used Hyundai Santa Fe inventory year after year.
Stop by our dealership to take a test drive in a used Hyundai SUV today
With such a wide range of different options available with our used Hyundai SUV inventory, the best way to pick the right one is to come down and see them for yourself. So, feel free to pay us a visit when you get some time on your hands, and discover the great reasons many Georgian drivers are choosing used Hyundai SUVs these days.