Affordable used Hyundai cars await you here at Rick Case Hyundai of Roswell
On a strict shopping budget for your next car? If that's the case, there's lots of great options to consider with the used cars for sale around the Alpharetta and Atlanta areas these days. But of all your used car shopping options, you'll never find a better selection or more competitive pricing than we have here with our used Hyundai inventory. Swing by our showroom and let us get you behind the wheel of an attractively priced pre-owned Hyundai today!
A used Hyundai sedan may be the smartest car shopping decision you've ever made!
A lot of folks these days will tell you that if you've seen one used sedan, you've seen them all, but nothing could be further from the truth when you shop with us.
Our used Hyundai inventory is brimming with options that fall under the purview of pre-owned sedans, and each has its own strengths and benefits. In fact, we've noticed that drivers from Sandy Springs to Marietta almost never have trouble in finding a used Hyundai sedan that suits them; the trouble is picking just one!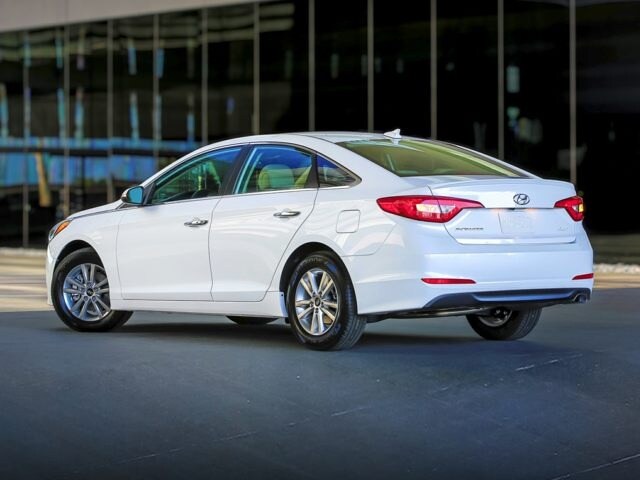 Want to save on your next car?
Then it's always a good idea to choose a compact car or a hybrid. Subcompact models like the used Hyundai Accent leverage their small stature to great benefit when it comes to fuel economy. In fact, this economically appointed car  can achieve up to an EPA-estimated 38 mpg on the highway when properly equipped, so it's fantastic for drivers from Johns Creek who commute into the city for work during the week.
On the other hand, another reason that efficiency-conscious drivers flock to our used Hyundai inventory is the ample availability of used Hyundai hybrid cars. From the used Hyundai Sonata Hybrid to the used Hyundai Ioniq Hybrid, our used Hyundai inventory affords you the opportunity to not only save on your purchase, but also save on your long-term transportation costs by maximizing your fuel economy and leveraging the benefits of hybrid car design.
Plus, even if you opt for a subcompact used Hyundai or a used Hyundai hybrid car, you'll still enjoy many of the creature comforts and amenities afforded to you by conventionally powered models. With available equipment ranging from Android Auto and Apple CarPlay support to hands-free smart trunks with auto open, there's plenty of value to be had by shopping for used Hyundai cars like these.
Dive in and explore most popular used Hyundai sedans for sale here in Roswell
Of course, when speaking of used Hyundai cars, we'd be remiss if we didn't mention two of our most perennially sought-after options: the used Hyundai Elantra and used Hyundai Sonata. Each of these two distinguished models has different strengths, and we'd love the chance to help you find the right fit.
With a strong sense of style and presence, the used Hyundai Elantra may be the smaller of these two models, but it more than makes up for the size difference with features and competitive efficiency. From a rearview camera with dynamic parking guidelines to a wireless phone charger available on its equipment list, the used Hyundai Elantra brings a lot more value to the table than many used compact cars these days.
However, if added space and safety features are what you're seeking in a used Hyundai car, don't hesitate to step up to the used Hyundai Sonata. Roomy and comfortably-appointed from front to back, the used Hyundai Sonata features a variety of conveniences and forward-thinking safety features on its available equipment list, like rear-seat accessible USB ports and smart safety tech like Blind-Spot Detection with Rear-Cross Traffic Alert.
Avail yourself of all your used Hyundai car shopping options today
This is just a small taste of what you can expect when you browse our used Hyundai car inventory here in Roswell, GA. So, if you'd like to see all that we have to offer firsthand, drop by our showroom to test drive some of the pre-owned Hyundai cars and sedans available to you today.