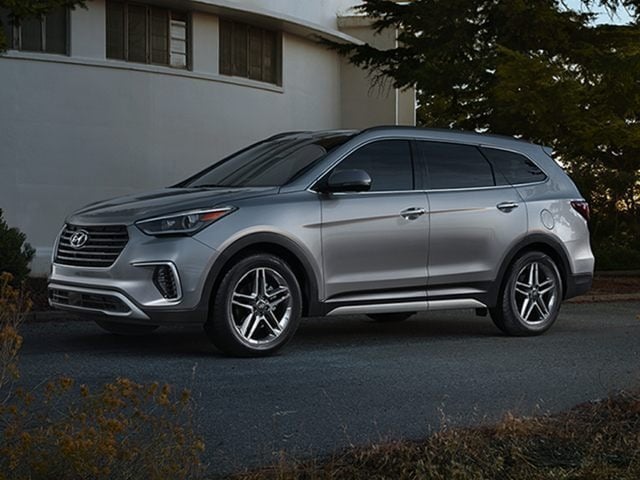 See how the new Hyundai Santa Fe compares to its competitors here at Rick Case Hyundai of Roswell
At Rick Case Hyundai of Roswell, we know that choosing a new car isn't always easy. After all, with so many options out there from Alpharetta, GA to Johns Creek, GA, it can be a bit overwhelming. That said, even if you've got a long list of cars you're considering, none are more deserving of a spot at  the top of that list than the new Hyundai Santa Fe. This versatile three-row SUV has caught the eye of drivers from Marietta, GA to Sandy Springs, GA on their visits to our showroom here in Roswell, GA, and we're confident you'll find its many features appealing. That being said, we wouldn't make such a bold assertion without evidence to back it up, which is why we've put together a quick rundown of some of the Hyundai Santa Fe's strengths and how it fares in comparison to top segment competitors.
Make an Inquiry
* Indicates a required field
Hyundai Santa Fe vs. Nissan Murano
Performance: Choosing a family-friendly SUV shouldn't come at the expense of finding a car you love to drive every day. Fortunately, you'll never have to sacrifice the fun-factor with the new Hyundai Santa Fe, as its standard 3.3-liter V6 engine puts out up to 290-horsepower. On the other hand, the Nissan Murano only churns out about 260 horsepower even with a larger 3.5-liter V6 engine.
Seating Capacity: Want an SUV with enough room for you and all your loved ones? The Hyundai Santa Fe can comfortably seat up to seven passengers with three-rows of available seating, making it a great fit for growing families from nearby Alpharetta, GA. Unfortunately for those who choose the Nissan Murano, it can only accommodate up to five passengers.
Cargo Space: Love getting away from Sandy Springs and Marietta, GA to take family trips? If so, you'll want an SUV that offers ample room for your family and all their stuff to boot. Luckily, the Hyundai Santa Fe offers up to 80 cubic-feet of cargo space, while the Nissan Murano tops out at just 67 cubic-feet of cargo space.
Hyundai Santa Fe vs. Toyota Highlander
Fuel Economy: If you're anything like us here at Rick Case Hyundai of Roswell, there are a lot of things you want to spend your money on, and gas isn't one of them. Fortunately, for those who want to save on fuel, the Hyundai Santa Fe gets better gas mileage on the highway than the Toyota Highlander, making it a smarter bet for those who frequently commute to and from nearby Johns Creek for work.
Warranty Coverage: Just as you don't want to spend too much on gas, you also want to keep your car's upkeep costs to a minimum.  The Hyundai Santa Fe features the exceptional Hyundai New Vehicle Warranty Coverage for up to 5 years or 60,000 miles. By comparison, the Toyota Highlander only offers up to 3 years or 36,000 miles of new vehicle warranty coverage, making the Hyundai Santa Fe the smarter choice for new car buyers in nearby Sandy Springs, GA.
Performance: Just as with the Nissan Murano before, the Hyundai Santa Fe easily bests the  Toyota Highlander in the horsepower department. The Hyundai Santa Fe takes the lead right out of the gate with its with its standard 290-horsepower engine, while the Toyota Highlander lags behind with its 185-horsepower standard engine.
Want to learn more about the new Hyundai Santa Fe and how it fares against other competitors? Stop by Rick Case Hyundai of Roswell to speak with our Hyundai sales associates and test drive this outstanding family SUV for yourself today!